RM3 Ferdinand I. 'Freddy' Markowski
Buffalo, NY

Radio Operator

USS Kearny DD-432
North Atlantic - Mediterranean - Pacific
Second World War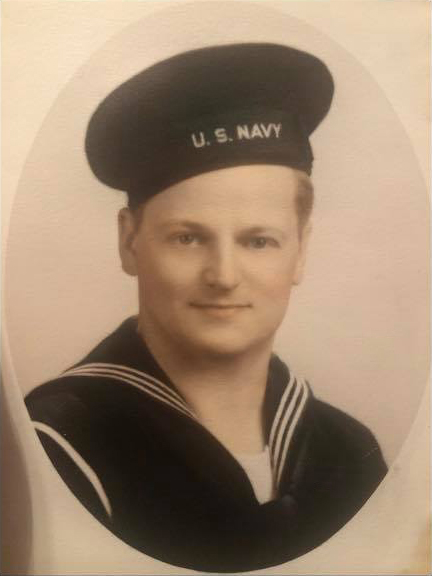 Courtesy of Ferdinand's great-granddaughter, Ashley Stafford


---


Born on April 3rd, 1914, Ferdinand Ignatius Markowski was 26 years old and working a rail
job with the National Carloading Corporation at Michigan Avenue and Exchange Street
in Buffalo, New York when he registered for the draft on October 16th, 1940.



Ferdinand's draft card.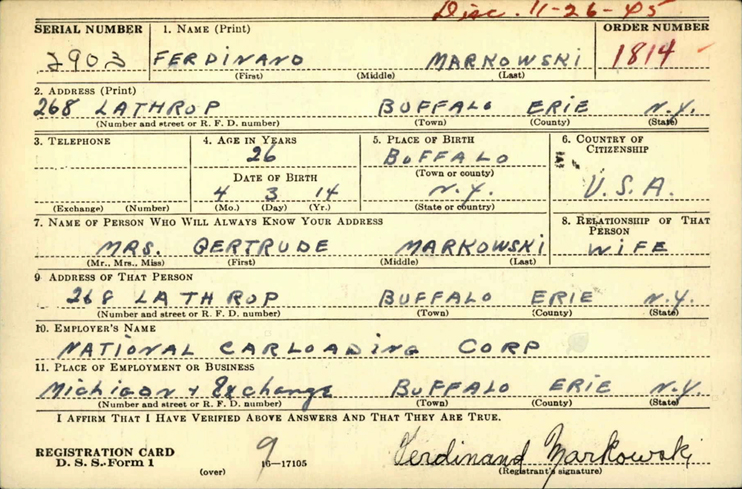 National Archives and Records Administration via Fold3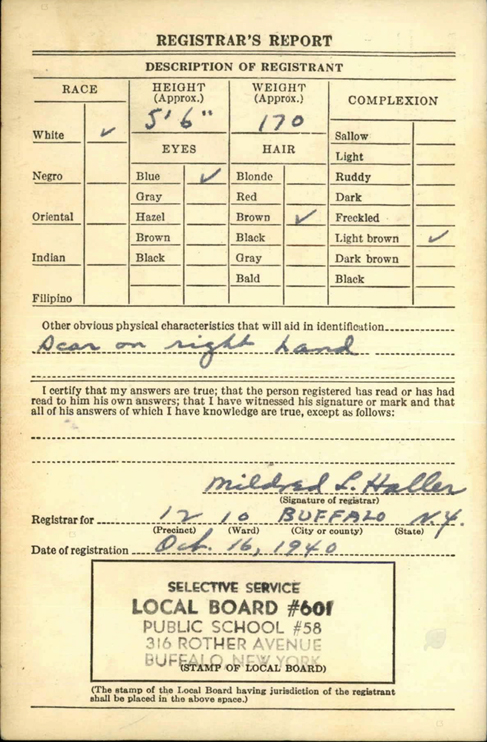 National Archives and Records Administration via Fold3


It seems that Ferdinand voluntarily enlisted in the US Naval Reserve at Buffalo on October 15th, 1943,
and although I have no specific information about his time in training, he was a radioman and would have
gone through the Navy's Electronics Training Program, attending a primary and secondary school, of which
there were several around the USA. You can read more about the USN ETP at a link at the bottom of this page.

As a radioman, Ferdinand was responsible for sending and receiving radio communications,
both voice transmissions and morse code, ship to ship, ship to shore, message relays, etc. He
was also responsible for any maintenance required on the radio equipment and the antennae.

Upon completion of his training, Ferdinand was sent to Norfolk, Virginia in May of 1944. There he boarded
LST-659, an amphibious landing ship that departed Norfolk on June 1st, headed for Bizerte, Tunisia.


LST-659 moored at harbor, possibly in Southern France, late 1944.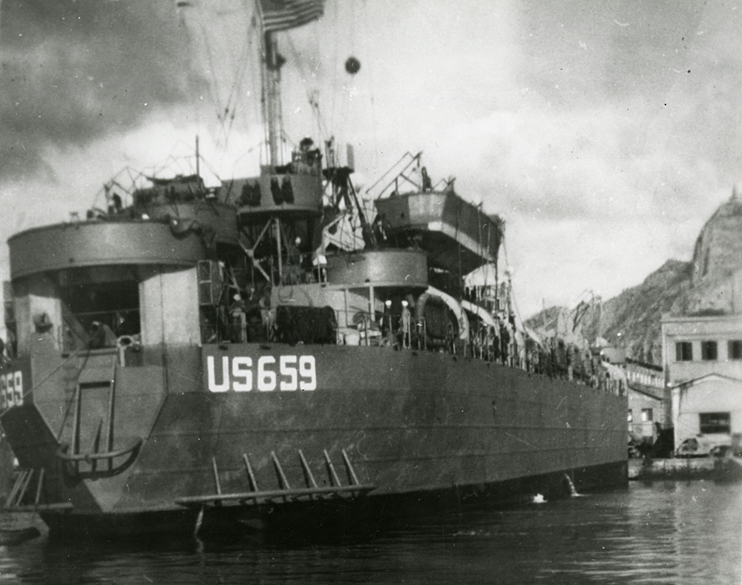 The National WWII Museum (Myron Duncan Milton photo via George A. Hill) - Larger Image


On July 2nd LST-659 stopped at Mers el Kebir, Algeria where the destroyer USS Kearny (DD-432)
was moored. This was Ferdinand's stop; he disembarked LST-659 and went aboard the
Kearny which he would call home for the next year and a few months.


A couple'a views of Mers el Kebir harbor circa 1944.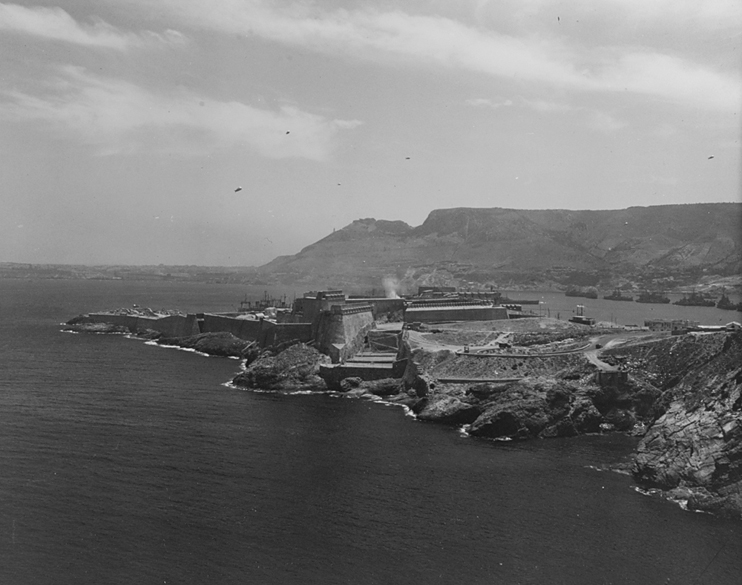 National Archives and Records Administration via Naval History and Heritage Command - Larger Image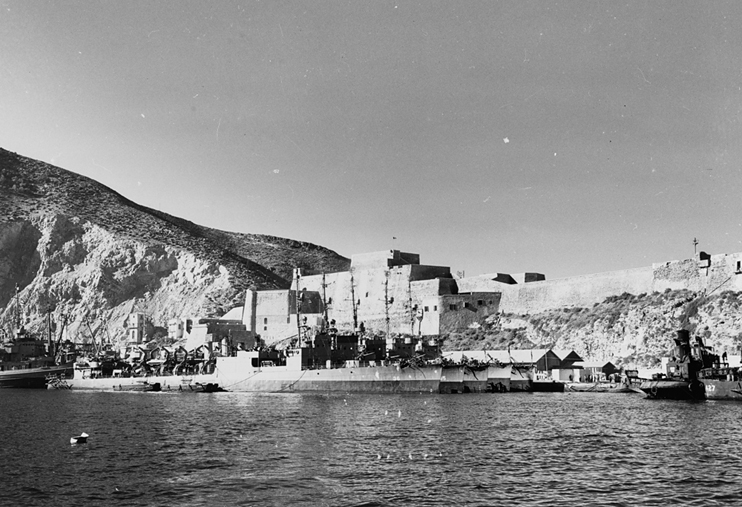 National Archives and Records Administration via Naval History and Heritage Command - Larger Image


USS Kearny in the Atlantic, approaching Gibralter while escorting a convoy in 1944.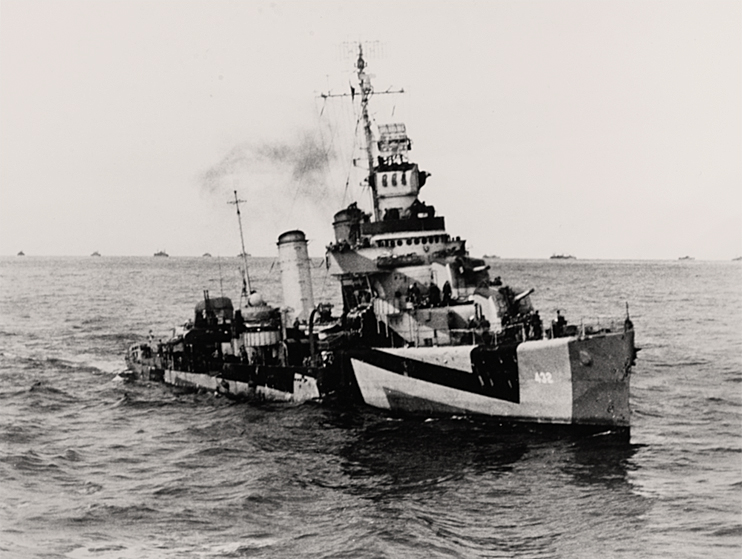 Captain Frank K.B. Wheeler USN(Ret) via Naval History and Heritage Command - Larger Image
Original Full-Size Image (2.3MB)


As a destroyer, the Kearny was one of the US Navy's workhorses: escorting other ships,
both military and civilian, singly or in convoys, providing them protection from enemy ships,
submarines, and aircraft, patrolling harbors and various other areas of operations, guarding
against enemy incursions, participating in shore bombardments during amphibious landing
operations, engaging enemy positions and screening friendly ships with smoke screens, as well
as taking on casualties for transfer to hospital ships and participating in search and rescue
operations when called upon. The 'tin cans' or 'cans' as they were called, did it all.


Though this radio room is from a different type of ship, and the layout is undoubtedly
a bit different from that on the Kearny, it nonetheless gives you something of an idea
of what Ferdinand's 'office' aboard the Kearny would have looked like.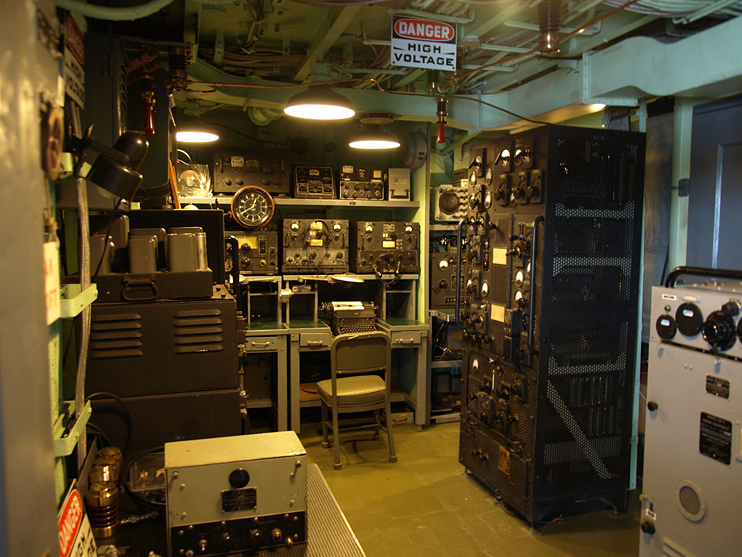 Thomas Salgado photo


A closer look at the radio operators' station.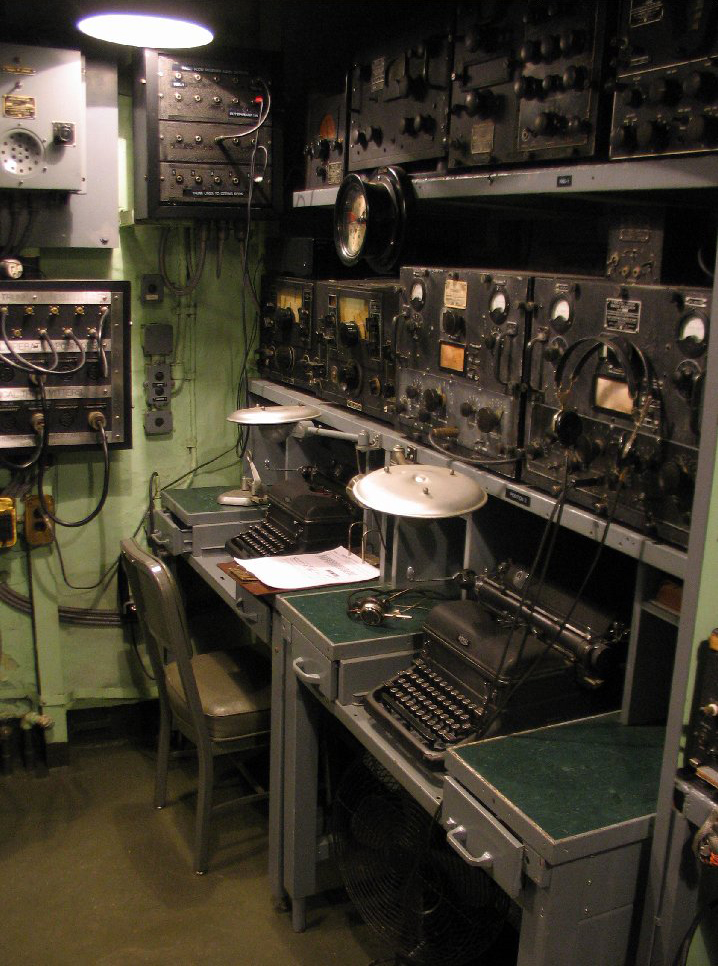 USS Slater.org


A radioman sending morse code...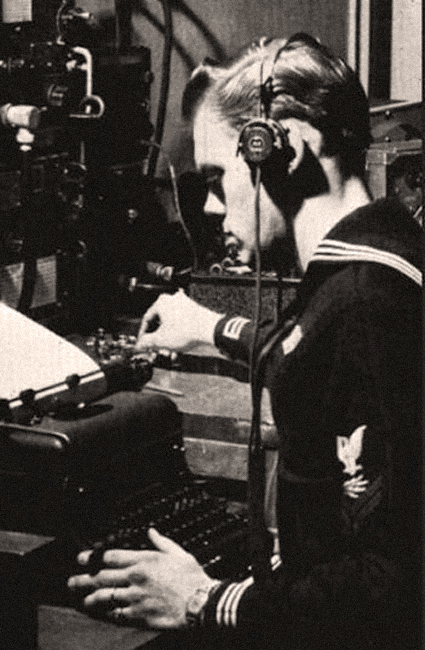 US Navy photo


During the month of July 1944 and the first half of August, Kearny escorted various ships
in the Mediterranean and participated in a few gunnery and shore bombardment exercises.


On August 15th, 1944 the Allies launched Operation Dragoon, the invasion of Southern France.
For this operation USS Kearny was initially assigned to Task Force 84's Gunfire Support Group
(Task Group 84.7) which was tasked with providing fire support for the landing forces. Kearny's
primary job was to provide defensive escort and screening for the cruisers of the Task Group.
Kearny's activities with Task Group 84.7 from August 15th to the 17th, 1944
are detailed in a six-page action report that you can see HERE.


One of the main tasks that destroyers performed during amphibious operations was to lay smoke screens
to obscure friendly ships from the enemy's view and therefore provide some measure of protection from
incoming fire. In the report linked above, the following entries are made for August 16th, 1944:





Here's a photo taken from the cruiser USS Quincy (CA-71) on August 16th. The 'wall' of smoke
seen in the background is a smoke screen laid down by a destroyer, quite possibly Kearny.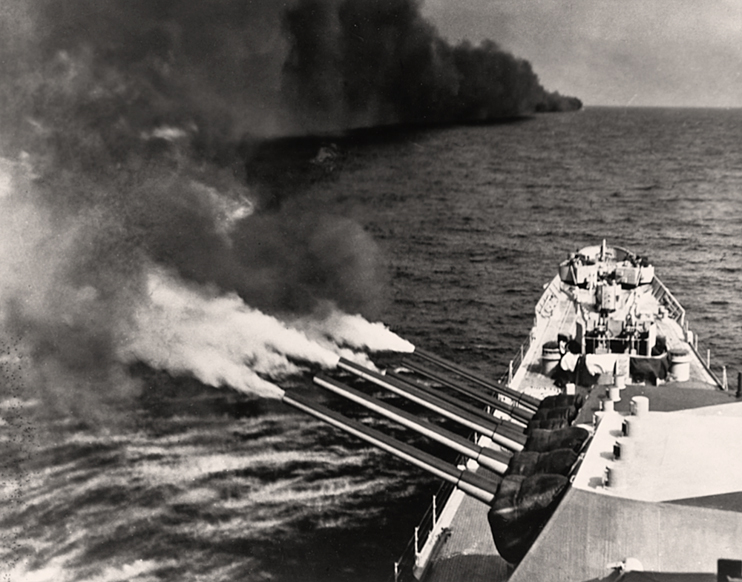 National Archives and Records Administration via Naval History and Heritage Command - Larger Image


From August 18th to the 26th, 1944 Kearny operated as part of Task Group 86.4, performing the
same job as with Task Group 84.7 the previous few days. On August 24th, Kearny came under fire
from what was believed to be a three-gun 105mm artillery position, receiving minor damage. (See
the seventh page of the report linked below.) Then, from the 27th to the 30th, Kearny provided
defensive escort for allied shipping in the assault area as part of Task Unit 80.6.10.
Kearny's activities during this time are detailed in a ten-page report that you can see HERE.


After this, Kearny went back to escorting convoys and single ships in the Mediterranean
before heading back to the USA in November. Kearny spent most of December of 1944 moored
and in drydock at the Brooklyn Navy Yard, probably for inspection, maintenance, and possibly
repairs. In January she particpated in numerous gunnery, anti-submarine, and other
exercises at various points along the East Coast of the Continetal USA.


On January 19th, 1945 Kearny was photographed from an aircraft of Navy Utility
Squadron VJ-15 during a torpedo exercise conducted off the coast of Long Island, New York.
(See page 4 of Kearny's War Diary for January of 1945.)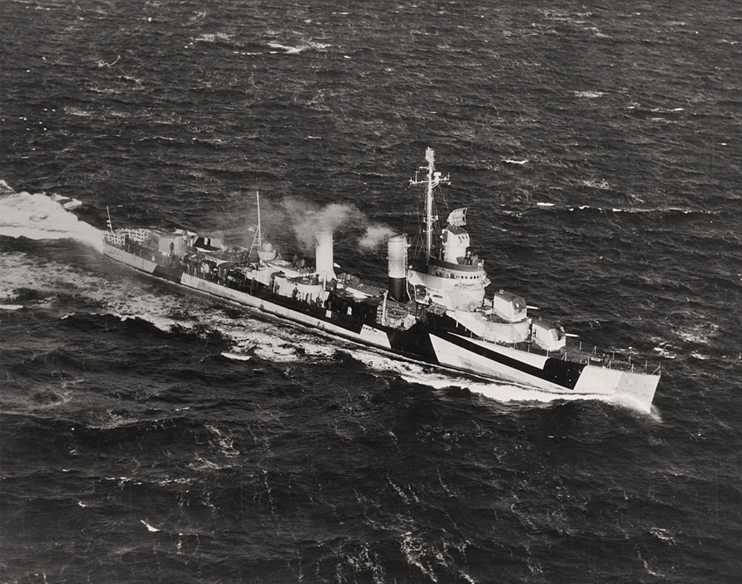 National Archives and Records Administration via Naval History and Heritage Command - Larger Image
Original Full-Size Image (2.3MB)


Just for the heckuvit... here's the type of aircraft from which the above photo was taken:
A Martin JM-1, the Navy's version of the USAAF B-26 Marauder medium bomber.
VJ-15 flew the JM-1 out of Naval Air Station Brunswick, Maine, but had a detachment flying
from NAS Quonset Point, Rhode Island in January of 1945, and it's likely that the
above photo was taken from one of the Det birds flying from Quonset Point.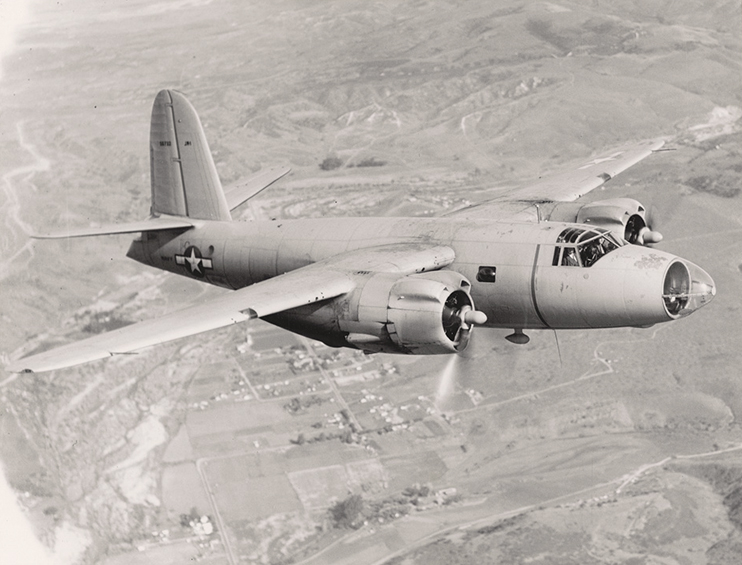 Wright State University (Walter Matthews Jefferies Aviation Collection) - Larger Image


January 31st, 1945 found Kearny at NOB Norfolk, Virginia awaiting her next assignment.
The wait was not long, as on February 2nd Kearny once again took up convoy escort duty,
leaving Norfolk early in the morning as part of Task Group 60.9 to join convoy UGS-72.


---
Ferdinand had recently received word of his promotion from Seaman First Class to Radioman
Third Class as documented by this page from Kearny's muster roll for February 1st, 1945.
(See entries '23' on the top and bottom half of the page.)
Image source: National Archives and Records Administration via Fold3 via Ashley Stafford
---


The 'UG' in the convoy's designation meant that it was eastbound, traveling from the USA
to Gibraltar and then into the Mediterranean. The 'S' denoted a 'slow' convoy, traveling
at less than 10 knots, so the Atlantic crossing took a little bit more than two weeks.



USS Birmingham (CL-62) passes Gibraltar on her way into the Mediterranean during June of 1943.
Ferdinand would have had much the same view each time Kearny passed 'The Rock' in 1944-45.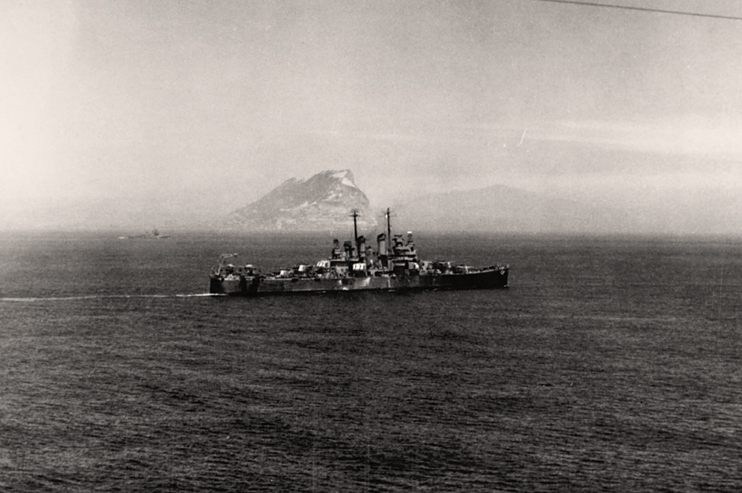 Colonel Robert L. Clifford, USAR(Ret) via Naval History and Heritage Command - Larger Image


Just as UGS-72 was about to enter the Straits of Gibraltar on the morning of February 17th,
two ships were torpedoed; the SS Regent Lion and SS Michael J. Stone. The bulk of TG 60.9
was despatched to deal with the U-Boat, but Kearny, as the picket ship out ahead of the
convoy remained on station until almost two hours later when she was then sent to cover
the Michael J. Stone which had restored power and was again underway, though at a greatly
reduced speed. Kearny remained with the Stone until a tug arrived to aid the stricken ship.
The Michael J. Stone was able to limp into a friendly port with aid of a tow and underwent
repairs. The Stone suffered no casualties, but the crew of the Regent Lion was not so lucky,
suffering six casualties. (Some sources I've come across say seven, and also disagree on the
point of how many were killed versus injured.) The Regent Lion was taken under tow
but was grounded near Punta Carnero, Spain, and ultimately declared a total loss.
The culprit in all this was the U-Boat U-300, skippered by Oberleutnant zur See Fritz Hein.
Though Hein was able to evade the convoy's escorts that morning, U-300 was sunk five
days later with the loss of nine of her fifty crew. Hein was among those lost.
---


More info about U-300's demise can be found HERE.

More about the Michael J. Stone HERE and the Regent Lion HERE.

The relevent portion of Kearny's War Diary for February of 1945 can be found on page 4, HERE.

More details about this incident can also be found on pages 20-21 of the Commander of
Escort Division Fifteen's War Diary for January and February of 1945, HERE.



---


Kearny continued with convoy escort duties uneventfully through to the end of the war in
Europe, returning to the USA in May of 1945 and undergoing a refit in Drydock #3 at the Boston
Navy Yard during the first half of June. I don't know what changes were made, but I'd guess that
she was outfitted with all the latest whiz-bang gizmos that USN destroyers were sporting in 1945.


The Boston Naval Shipyard circa 1943. Drydock #3, where Kearny underwent a refit in
June of 1945, is on the left, occupied here by the USS Iowa (BB-61).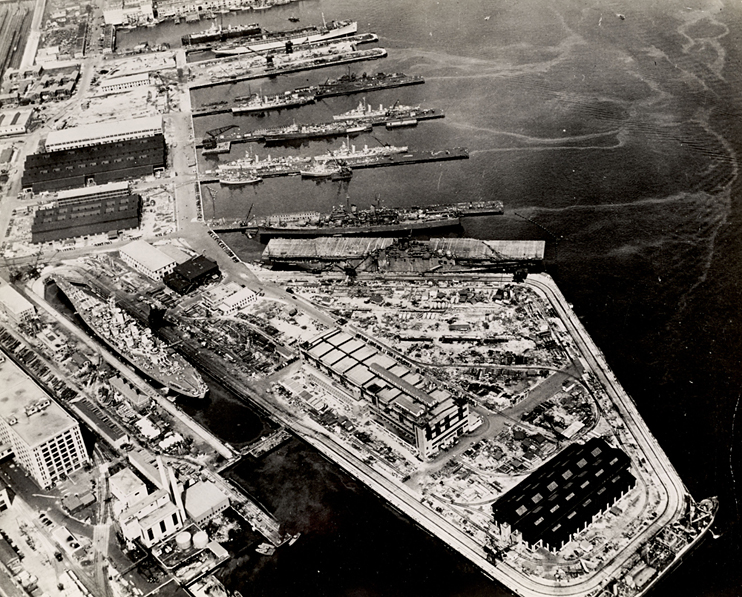 US Navy photo held by National Archives at Boston - Larger Image
via Digital Commonwealth Massachusetts Collections Online


At this point in the war an invasion of the Japanese mainland seemed inevitable. So after
the refit, Kearny spent the latter half of June and all of July participating in training
exercises and wringing out new equipment, preparing to go to war against Japan.
The first day of August 1945 saw Kearny at Guantanamo Bay, Cuba, 'waiting for the word'.
The following day, the word was said and that word was 'Panama'. On the evening of August 2nd
Kearny departed Cuba and headed South, arriving in the Canal Zone on the morning of the 4th
and passing through the canal later that night. On August 5th Kearny departed for San Diego,
arriving on the 13th and remaining there for roughly a week to undergo repairs for a trouble-
some starboard drive shaft. On August 21st Kearny left San Diego, headed for Pearl Harbor.
By this time, however, the war with Japan was finally over.
Kearny arrived at Pearl on August 27th, participated in various training exercises and
ran equipment tests over the course of several days. Then on September 7th, Kearny took
up escort duties once again, this time accompanying occupation troops headed for Japan.
Over the course of the next two months, Kearny traveled to Saipan, Japan, the Philippines,
and Okinawa. On October 29th, 1945 the final voyage home began. Kearny left Japan,
headed for Pearl Harbor and then San Diego, arriving at the latter on November 15th.
Though Kearny would go on via the Panama Canal to the East Coast, Ferdinand Markowski's
time aboard the old tin can had come to an end, and he walked down Kearny's gangplank for
the last time at San Diego. He went through the Naval Training and Distribution Center at
Camp Elliott before being sent to the Personnel Separation Center at Naval Training Station
Sampson, located on Seneca Lake in Central New York. There he received his discharge
on November 26th, 1945 and returned home to Buffalo, New York soon thereafter.
---


Apparently Ferdinand was quite an avid bowler, and bowled at least one perfect game,
as told in this story from the February 4th, 1961 edition of the Buffalo Evening News.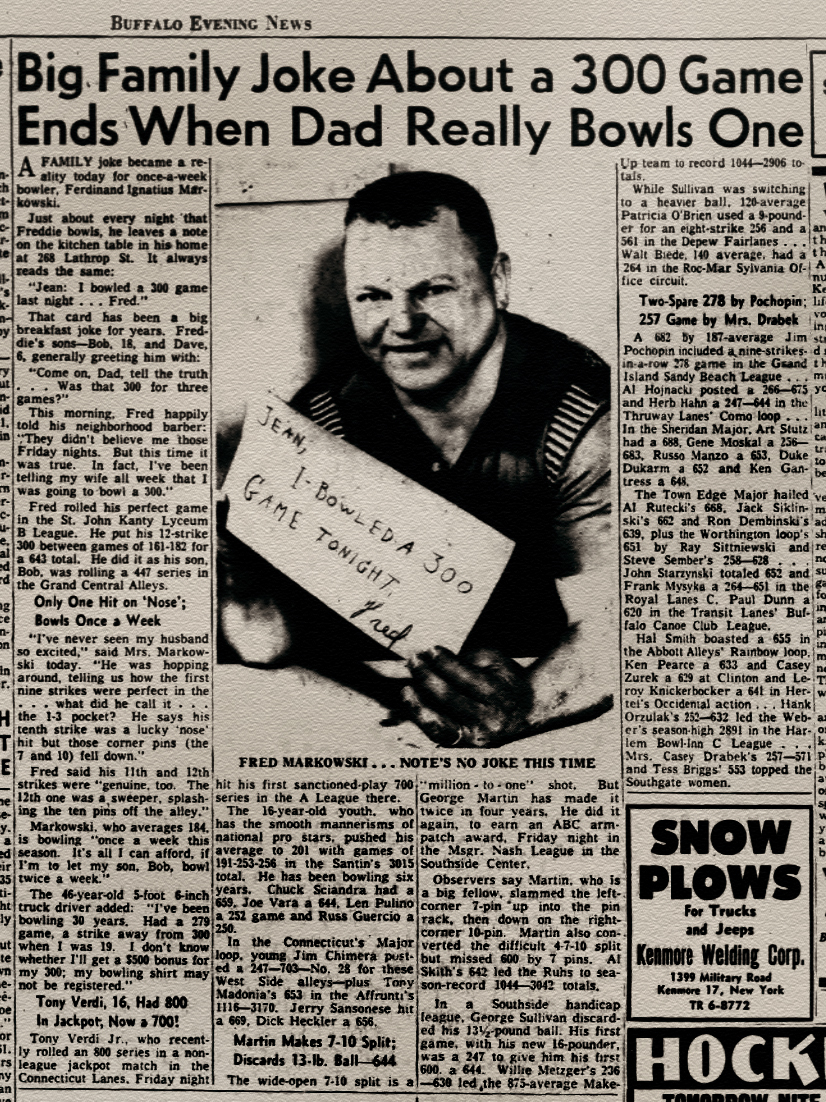 Original image from: Fulton History (See the full newspaper page HERE)


Ferdinand Ignatius Markowski passed away in April of 1978 at the age of 64.
You can see his memorial on the 'Find a Grave' website, HERE.
---
---


A few mentions are made above to the Kearny's War Diaries, with links provided.
You can see all of USS Kearny's War Diaries from June of 1944 to November of 1945 HERE.
(A few are currently unavailable, though I hope to present them here in the future.)


Additional reading and related links:

USS Kearny DD-432 on NavSource.org
USN Electronics Training Program
Vintage 1944 Radio Operator Training: How to Send Morse Code (CW) by Hand
Period training film
US Navy Radio Communications - 1950s & 1960s
Though there's relatively little on this site that deals with the Second World War, it nonetheless
provides more than a glimpse into the world of the US Navy radioman during years gone by.
---
---
Back to 'WNY Vets - USN'